Commonly, many people only know the fruit of the success without thinking about the hard-working period, like the ST25 Rice - a renowned rice brand which is being faked by some companies. Although it can be the same as the packaging and the color, the original taste is unchangeable. There is only one ST25.
ST25 rice is the pride of Vietnam in the world market, affirming the quality of Vietnam's Rice Brand after a long time focusing on the quantity, forgetting the real quality of the product. ST25 rice is one of fragrant rice types which are researched by Engineer Ho Quang Cua and his colleagues nearly 20 years ago. This is the result of hard-working hands and good brains with the superhuman effort of the whole team. Until now, ST25 rice is known as not only delicious but also nutritious product for the health of consumers.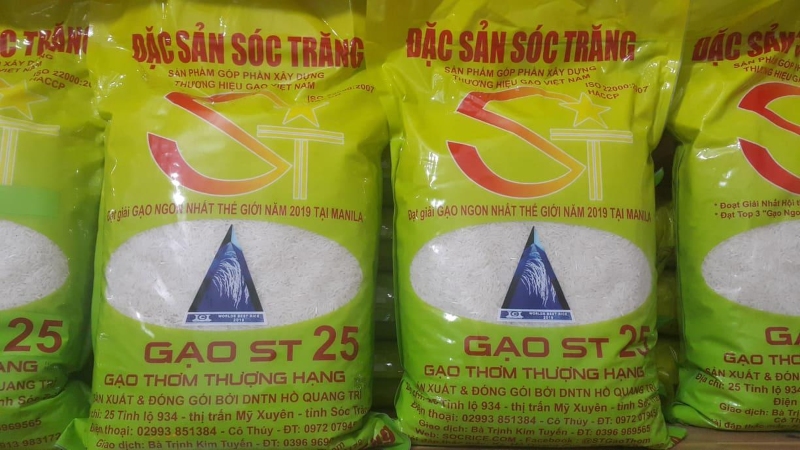 ST25 Rice - Soc Trang Province
In this article, Windy Food will help readers find more about the special features of this kind of rice including the prizes, the difference between authentic and fake rice and the cost of this high- ranking fragrant rice.
The prizes of ST25 Rice - the pride of Vietnam's Rice Brand
At the present, ST25 Rice has got many prizes in the world and in Vietnam. However, Windy Food will only list some of the remarkable prizes of ST25 in this article.
First Prize - World's Best Rice in 2019
At the World's Best Rice on November, 12nd 2019, ST25 Rice passed significantly all the difficult standards of the Organizer to win the first prize of the World's Best Rice. The contest occured in the Capital of Philippines, Manila and the examiners are the top Chefs of the world. The best thing is ST25 Rice valued over the rices of America, Cambodia and Thailand (the famous country of fragrant rice in the past 60 years, occupying the market of world high-ranking rice).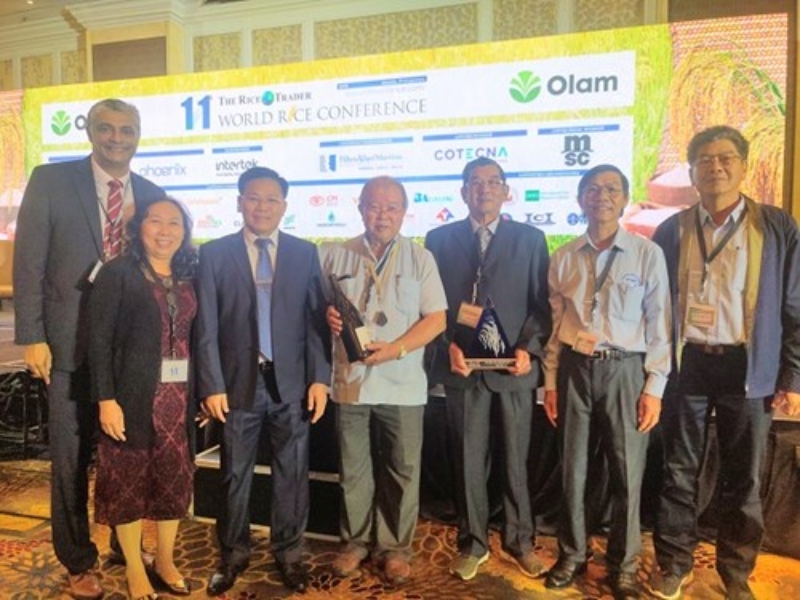 The photo at the World's Best Rice in 2019
Second Prize - World's Best Rice in 2020
The newest award of ST25 Rice of engineer Ho Quang Cua and Ho Quang Tri Private Enterprise have been the second prize at the World's Best Rice Contest which was organized twelfth by The Rice Trader in America. The contest was from 1 - 3 of December, 2020.
First Prize - Vietnam's Best Rice in 2020
In Vietnam, this kind of rice won a lot of awards. Particularly, ST25 Rice won the first prize at the Vietnam's Best Rice Contest which was organized by the Department of Crop Production, Dan Viet online newspaper and Agriculture online newspaper in November, 2020.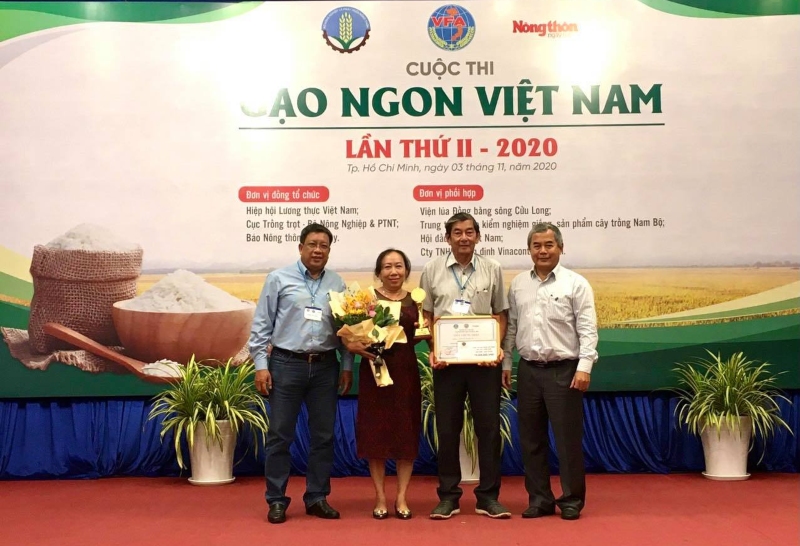 The origin of ST25 Rice
About Engineer Ho Quang Cua - Who determined to find the level of Viet's Rice
Engineer Ho Quang Cua was born in Vinh Chau town, Soc Trang province and his childhood sticked to fields. In 1978, he graduated with a Bachelor of agricultural engineer at University of Can Tho. Engineer Ho Quang Cua carried out many researches and made many contributions to Vietnam's agriculture, especially about rice. He and his colleagues were awarded labor metals and prizes from President of Vietnam and from agricultural organizations.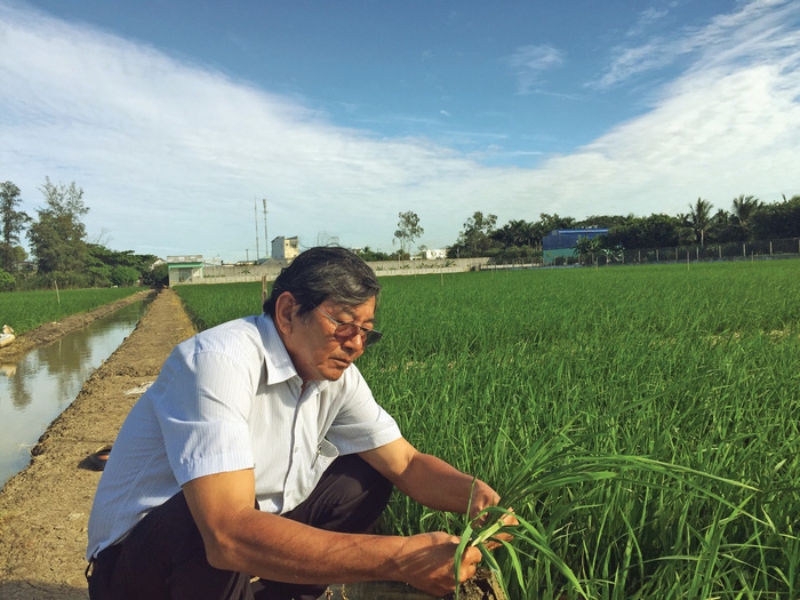 Engineer Ho Quang Cua
The process of study - ST25 rice strain
Starting researching fragrant rice in 2002, he got a driving ambition and strong willing to bring the Viet's rice brand to the world. After the period of learning, breeding and improvement of many crops, he created the renowned rice strain like Purple ST, Red ST, ST3, ST5, ST20, ST24 and ST25 from absolutely nothing.
About ST25 fragrant rice, it was researched from 2008, until 2016, it became popular and sold strongly in Long An Province (Tan Tru Rice market) and Tien Giang Province (Ba Dac Market).
Specification of ST25 Rice - Soc Trang Province
Some photos of the fields of ST25 Rice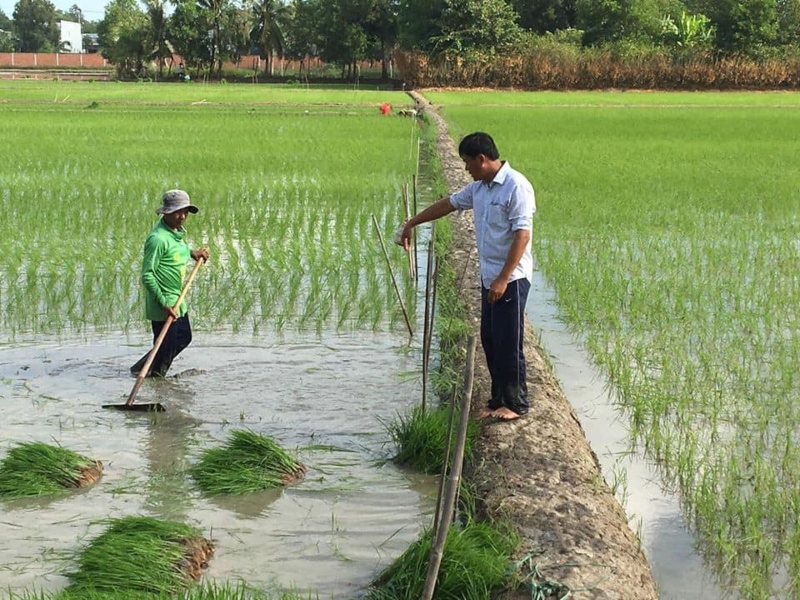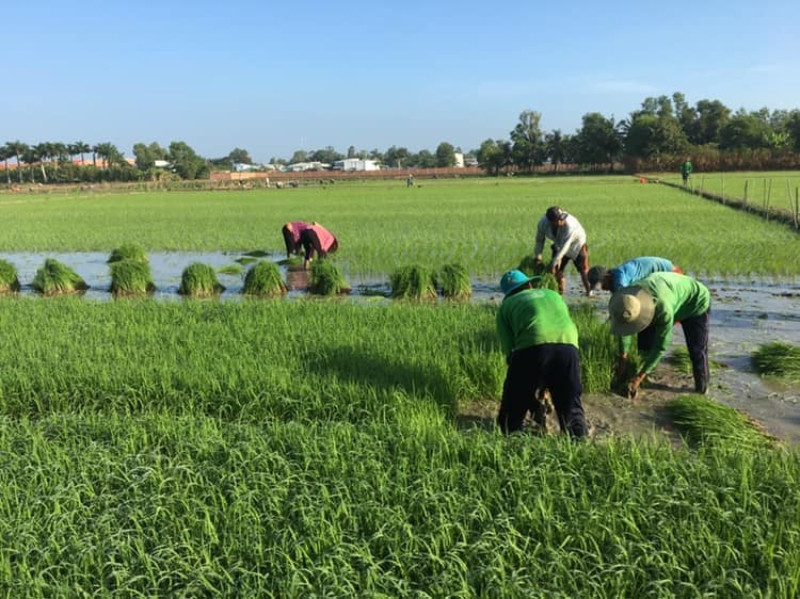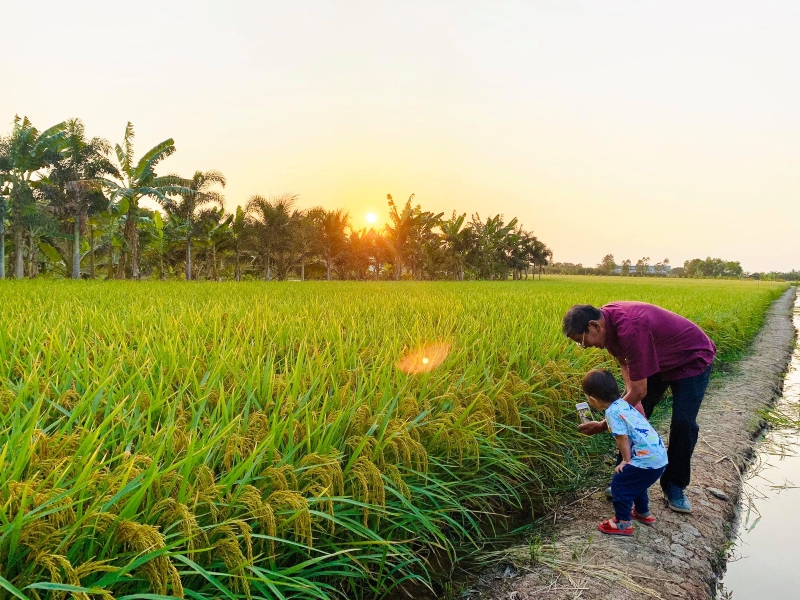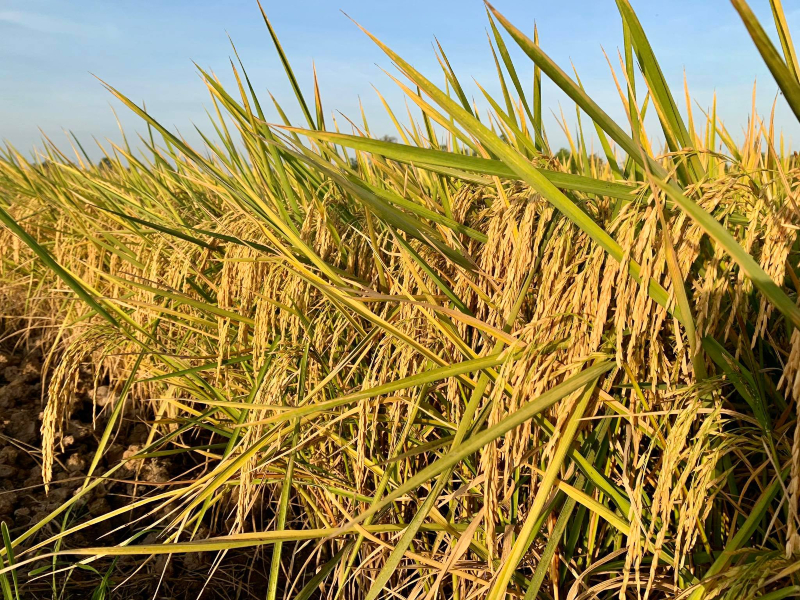 What is special when cooking the world's best rice ST25?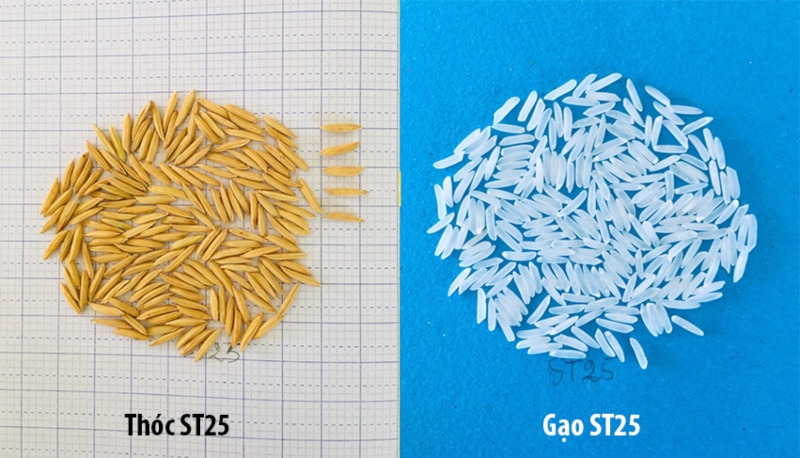 Photo of ST25 grain (left) and rice (right)
ST25 rice grain is clear, white and long, it is not cloudy like others. After cooking, it has smells of pineapple, sweet, soft, unbroken but longer like lines in the rice cooker. Especially, after cooking, ST25 rice is not very hard when cooling.
Regardless of nutrients, this kind of rice has high protein content (10 percent of protein), higher 1,5 times compared with normal rice, suitable for the elderly, children and even people with diabetes. This is also a famous speciality of Soc Trang province and is favored by many people.
Nutrients of ST25 rice
| | | | | |
| --- | --- | --- | --- | --- |
| No. | Exalted standard | Unit | Result | |
| 1 | Ca | mg/kg | 53,3 | |
| 2 | Fe | mg/kg | 3,53 | |
| 3 | K | mg/kg | 534 | |
| 4 | Mg | mg/kg | 89,9 | |
| 5 | Zn | mg/kg | 13,8 | |
| 6 | Anthocyanin | mg/kg | 87,1 | |
| 7 | Dietary Fiber | % | 1,8 | |
| 8 | Glucide | % | 79,5 | |
| 9 | Lipide | % | 0,75 | |
| 10 | Calories | kcal/100g | 353 | |
| 11 | Protide | g/100g | 6,87 (Nx6,25) | |
How to cook ST25 Rice tastefully?
To keep the best taste of this rice, it should be cooked with little water (only 1 cm higher from the surface of rice), no tilling rice before eating. The ratio between rice and water is 1: 0.8. The cooked rice looks good with the smells of pineapple, quite sweet and soft.
How to distinguish real ST25 rice and fake ST25 rice?
Because of the demand of customers, some enterprises have faked the packaging of ST25 rice to earn unlawful money. This leads to the unclear origin of rice and makes customers puzzled.
Noted: Fragrant ST25 Rice is only manufactured and packaged by Ho Quang Tri Private Enterprise at present. Besides that, the product has not shared or franchised to any company to make. Therefore, the other products with the same packaging from other companies are fake.
To recognize exactly the original ST25 rice, buyers can check the packaging, brand and the quality of cooked rice.
Recognizing the authentic packaging of ST25 Rice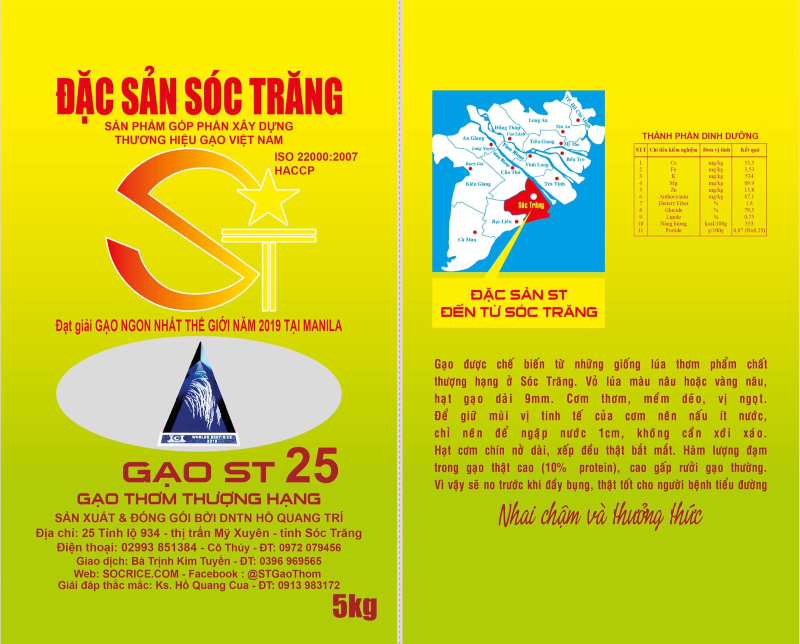 The current packaging of 5kg ST25 bag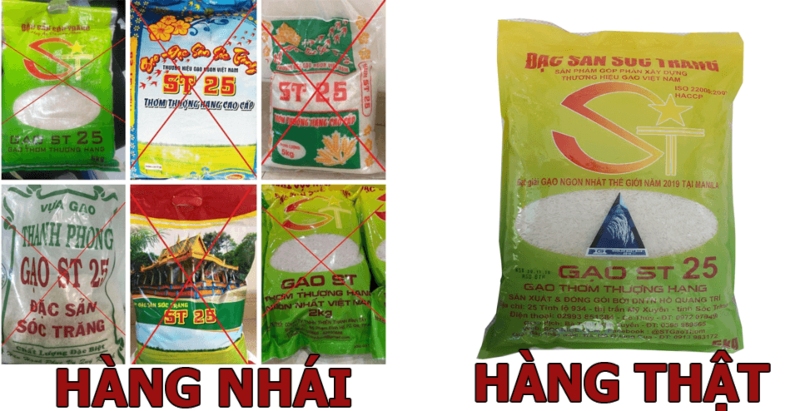 The fake packaging of ST25 Rice
How much is a ST25 Rice Bag?
Currently, there are two types of ST25 Rice packages:
5kg bag (rice from paddy fields): 37,000 VND/kg

2kg bag (rice from the shrimp - rice crop rotation model): 45,000VND/kg
The above prices are common in Ho Chi Minh City. This can be changed depending on peak time and store location. For example, the cost of a 5kg ST25 rice bag is not able to be under 45,000 VND/kg for the reason of delivery and other fees. Noted: some stores provide ST25 rice with cheap cost, 30,000VND/kg, usually mixing with other kinds of rice. For that reason, the buyer should check carefully the packaging, address, origin before buying it to make sure of the right products.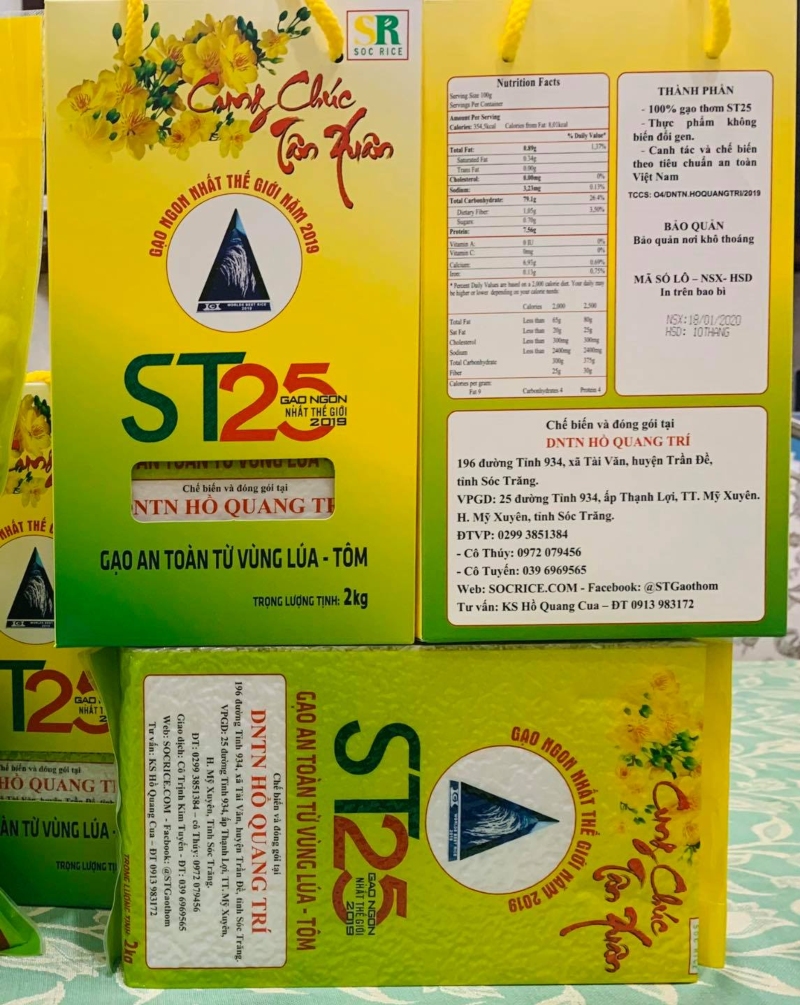 2 kg original ST25 Rice bag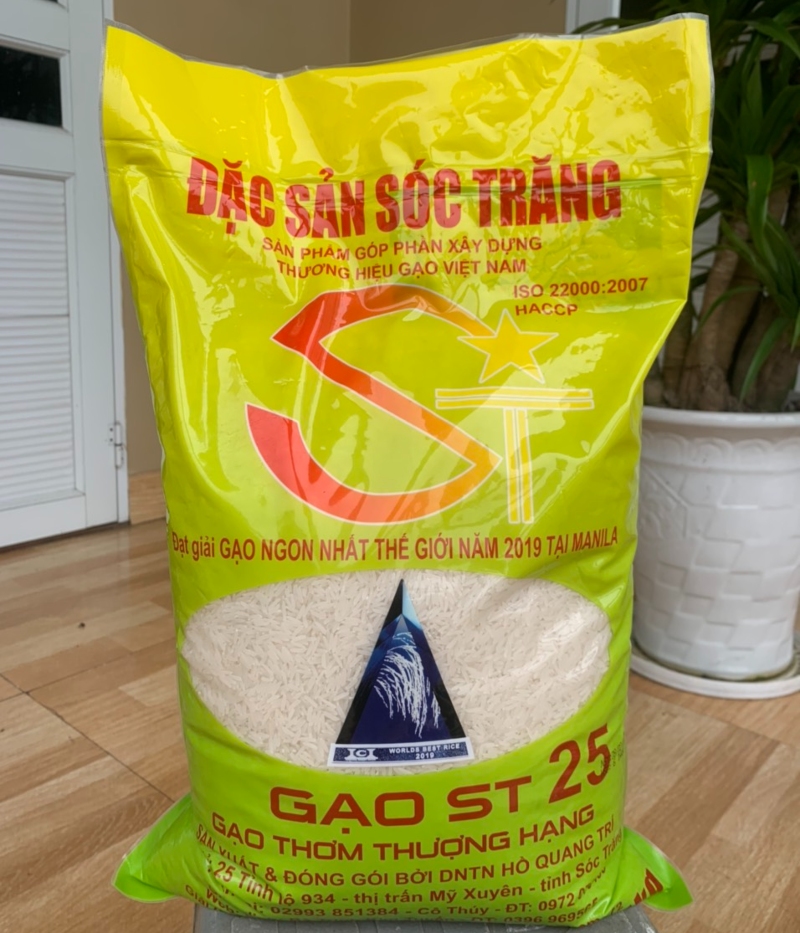 5kg original ST25 Rice bag
The process of packaging ST25 Rice bag in store in Soc Trang Province
Where can you buy authentic ST25 Rice?
To sell authentic ST25 Rice, the retail store must get the certificate of Ho Quang Tri Private Enterprise. And Windy Food is one of the legal retail stores which have the certificate and can provide the authentic ST25 Rice sourced from Soc Trang.
Thus, in Ho Chi Minh city, Ha Noi city or other provinces, you can order by calling Windy Food's hotline 0929 042 000 or you can find other stores recognized by Ho Quang Tri Private Enterprise to buy the right product.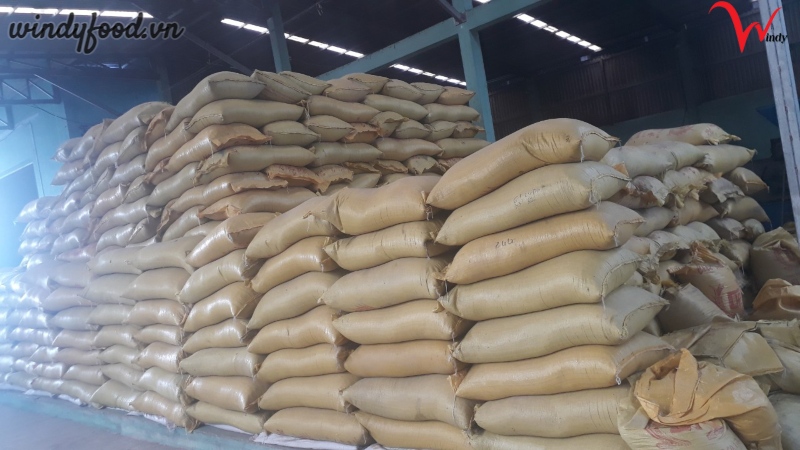 The store of ST rice grain in Soc Trang Province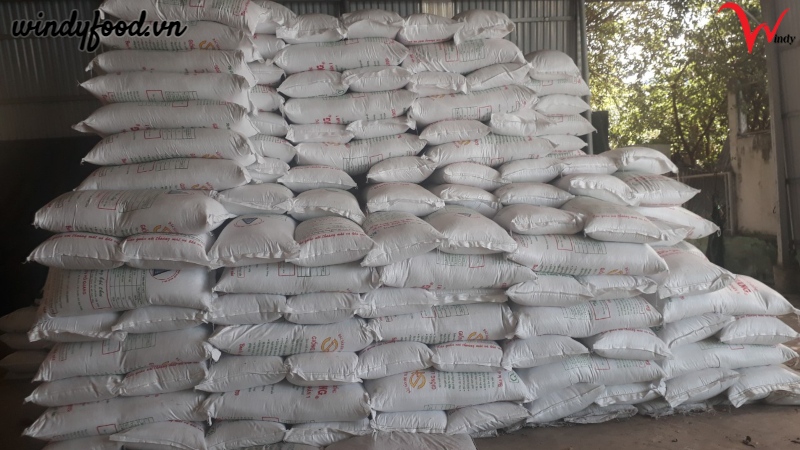 The store of ST rice grain in Soc Trang Province
Why should you buy ST25 Rice at Windy Food?
Windy Food is the legal retail store of Ho Quang Tri Private Enterprise about ST Rice products, so buyers will get the qualified products from us. Buyers can buy with big quantities to resell or small quantities to make gifts.

We sell the best price because of buying directly big quantities from the manufacturing store (more than 10 tons for a buy).

Besides ST25 Rice, Windy Food also provides Red ST Rice, Purple ST Rice, ST24 Rice and other types to adapt the needs of customers.
Please call Windy Food's hotline 0929 042 000 to get know more about the products or come with us at the information below!
Contact Information
Windy Food
Address: No.9 Road, An Phu Ward, District Thu Duc, Ho Chi Minh City
Hotline: 0929 042 000 - 0973 667 326
Email: bncn17@gmail.com
Website: https://windyfood.vn